Buick Encore Battery Size
---
Select Your Model Year...
Choose the appropriate model year for the Buick Encore you are trying to find the battery size for from the list below.
Buick Encore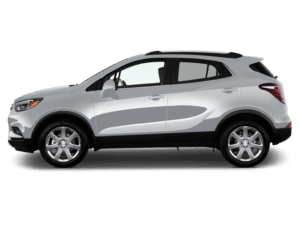 You can find the appropriate battery size for the Buick Encore to the left, just scroll to your year and check the trim.
The years available stretch from 2013 through to 2022 and by clicking a link you can view the different battery types for each trim.
Among the increasingly crowded subcompact crossover SUV market offerings sits the Buick Encore, which was first launched back in 2012 by General Motors. Those who look at it may first notice its similarities to the Opel Mokka, and that is no accident or coincidence. The Encore is in fact the American version of the Opel/Vauxhall Mokka, but badged as a GM Buick. It represents Buick's first foray into the subcompact crossover market.
There have been 2 generations in total, the first running from 2013 to 2020, and the second launched in 2020. A 2017 facelift brought new headlights, bumpers, tail lights and a revised interior to the first generation models.
The first generation also offered many more engine options across different markets, from 1.4L to 1.8L in displacement, and including gasoline, turbo gasoline, diesel, and turbo diesel options. These offerings were pared down greatly in the second generation, cutting them to just a 1.0L turbo gasoline, and a 1.3L turbo gasoline, the former paired with a 6-speed automatic, and the latter with a CVT.
The interesting thing about Buick's second-generation Encore is that it wasn't brought to the North American market at all. It was strategically launched at the Shanghai Auto Show in 2019 alongside a new model, the Buick Encore GX, and was built using the GEM platform, which was not designed for use in the North American market.
Some notable features in the North American Encore model include its offer of the Ecotec direct-injection package, which includes stop/start technology designed to boost fuel economy when driving in traffic. The result was an EPA rating of about 25-mpg in the city, and 30-mpg on the highway for the FWD version, and a still-pleasing 24-mpg and 29-mpg respectively for the AWD version.
GM decided to discontinue the North American Buick Encore (first-generation models) after the 2022 model year, but the second-generation Encore and Encore GX models will continue to be sold in emerging markets.