Chrysler 200 Battery Size
---
Select Your Model Year...
Choose the appropriate model year for the Chrysler 200 you are trying to find the battery size for from the list below.
Chrysler 200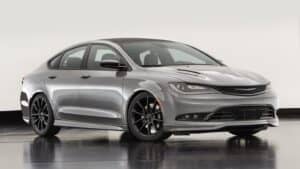 You can find the appropriate battery size for the Chrysler 200 to the left, just scroll to your year and check the trim.
The years available stretch from 2011 through to 2017 and by clicking a link you can view the different battery types for each trim.
Taking on the huge mid-size car segment with the Chrysler 200, the American automobile manufacturer only ran the line for 6 years.
It was brought in to replace the Sebring/Dodge Avenger models that had also only ran for 6 years before being dropped.
No replacement was brought in for the 200 line due to the lack of profit it brought the company, instead they would focus on crossover SUV models and the Pacifica.
Even with the cars fantastic safety ratings the sales couldn't be saved as many buyers of family-car-sized vehicles were flocking to crossover SUVs.
Underneath was the same platform used in the Dodge Journey and Jeep Compass so it had been engineered and invested in heavily.
Then in the second-generation Chrysler 200 the platform used was the same as the Pacifica and Voyager/Grand Caravan.
Saftey ratings were even better in the second-version with only the rollover test not being awarded 5 out of 5 stars from NHTSA.
Buyers found the same 2 options of engine in the second-genration as the first but the original transmissions were dropped in favour of a 9-speed automatic.
In the dashboard was a suite of infotainment products based around the level of trim you chose at time of purchase.