Dodge Caliber Battery Size
---
Select Your Model Year...
Choose the appropriate model year for the Dodge Caliber you are trying to find the battery size for from the list below.
Dodge Caliber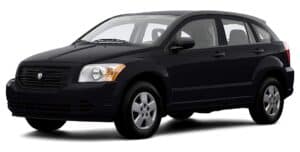 You can find the appropriate battery size for the Dodge Caliber to the left, just scroll to your year and check the trim.
The years available stretch from 2007 through to 2012 and by clicking a link you can view the different battery types for each trim.
The Dodge Caliber is a front-engine, front-wheel-drive five-door hatchback aimed at younger buyers with its unusual "whistling" turbocharger and an optional hand-painted hood.
Introduced in 2006 for the 2007 model year, it was intended to be the American automaker's first entry into European and Asian countries - previously focusing purely on the North American market.
Dodge offered the car with the choice of three different sized engines, with all trims carrying an all-wheel-drive option.
Volkswagen even provided a turbodiesel engine for the Caliber that was offered to European customers, Dodge being an American company had little experience in diesel engines.
Dodge's Caliber TDI, the first diesel-powered vehicle for the Dodge brand, is an environmentally friendly car designed with a projected 65 city mpg and up to 42 highway mpg.
That turbodiesel-powered Caliber provided an impressive life on a full tank - up to 500 miles.
The Caliber was unique, having been conceived by Chrysler as a replacement for the Dodge Neon, it also replaced Chrysler's entry-level compact car.
Underneath, the chassis is based on Daimler AG's C platform, shared with the Mitsubishi Colt and the Dodge Attitude.
For the first few years the car sold well in many regions around the world but after its peak in 2008 sales declined quickly on the back of the global recession which hit that year.
Its discontinuation following the 2012 model year was attributed to poor reception due to a lack of differentiation from other vehicles in its competitive set.
Dodge has continued to move away from budget models like this one and move towards premium and performance-focused lines such as the SUV Durango.