Dodge Dakota Battery Size
---
Select Your Model Year...
Choose the appropriate model year for the Dodge Dakota you are trying to find the battery size for from the list below.
Dodge Dakota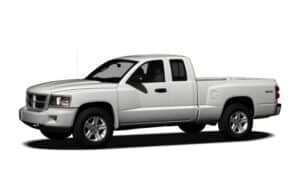 You can find the appropriate battery size for the Dodge Dakota to the left, just scroll to your year and check the trim.
The years available stretch from 1987 through to 2011 and by clicking a link you can view the different battery types for each trim.
Between the years of 1987 and 2011, the Dodge Dakota (later known as the Ram Dakota for 2 years) pickup truck was produced and sold in North and South America.
It was smaller than the company's flagship pickup truck the Ram, which later was pushed out to become its own separate brand away from Dodge.
Initial sales were fantastic as the truck represented what the typical American car buyer wanted but as the 1990s faded away so did the sales.
Several reasons can be put down to why the Dakota slumped during this millennium including the explosion in popularity of crossover SUVs like the Ford Edge.
Another reason for the decline according to the company themselves is that customers could buy the better-equipped Ram Pickup Truck for only a slightly higher price.
Until the third-generation version, the Dakota was offered with a wide range of engines, from a modest 2.5-liter 4 cylinder through to a powerful 5.2-liter V8.
Customers were also treated to a range of different transmissions in both automatic and manual variants.
In 2005 when the third-generation model hit showrooms the choice was reduced to just a 3.7-liter V6 or a 4.7-liter V8 mated to a 4/5-speed automatic or 6-speed manual transmission.
Sales quickly faltered after the choice was taken away and instead of expanding the range the model was taken off sale in 2011 after selling only a few percent of what it could achieve in past years.