Select Your Model Year...
Choose the appropriate model year for the Mazda CX-3 you are trying to find the battery size for from the list below.
Mazda CX-3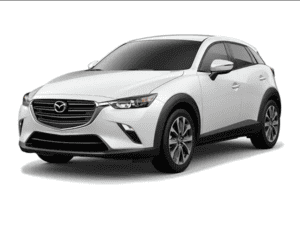 You can find the appropriate battery size for the Mazda CX-3 to the left, just scroll to your year and check the trim.
The years available stretch from 2016 through to 2022 and by clicking a link you can view the different battery types for each trim.
Mazda has been growing its range of crossover SUV models over the past decade, and their main subcompact offering was initially the Mazda CX-3. It was first released in the 2016 model year, but was discontinued in 2021 in both the European and US markets, getting replaced by the newer Mazda CX-30.
With a starting price of $20,000-21,000, the CX-3 represented great value for buyers, where it was more affordable than competing models like the Volkswagen Taos, Hyundai Kona N, and the regular Hyundai Kona.
It was available just in 2 trim levels, the Sport and Sport AWD. Going or the AWD variant raised the starting price to around $23,000. Streamlining the CX-3 into essentially one trim level split into different drivetrains did have one big advantage, namely that more premium features came as standard.
These features included a 7-inch infotainment display, blind-spot monitoring, a driver HUD, automatic climate control, automatic emergency braking, lane departure warning, and more. A combined EPA-rated fuel consumption rating of 34-mpg (32-mpg on the AWD model) made it even better value to consumers.
Under the (very long) hood sits a 2.0L, 4-cylinder direct fuel injection engine making 146-hp and 146 lb-ft of torque, paired with a 6-speed automatic transmission that also offered a manual shifting mode. On the road, drivers and reviewers alike praised its lively character, precise handling, reduced body roll, and superlative suspension.
The CX-3 is simple and fun to drive, and the quality and elegance of the interior matches that simplicity. It isn't "luxurious" by most standards, but is well built with nice materials, and delivers a simple elegance that keeps everything easy for drivers and passengers. The main gripe owners had was the rear seat being a little too cramped for adult passengers, especially taller ones.