Mazda Mazda5 Battery Size
---
Select Your Model Year...
Choose the appropriate model year for the Mazda Mazda5 you are trying to find the battery size for from the list below.
Mazda Mazda5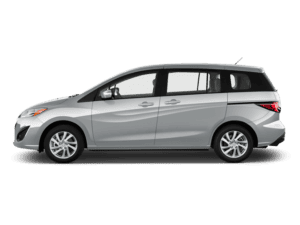 You can find the appropriate battery size for the Mazda Mazda5 to the left, just scroll to your year and check the trim.
The years available stretch from 2006 through to 2015 and by clicking a link you can view the different battery types for each trim.
The Mazda5 from Japanese OEM, Mazda, has been around since 1999, but was only actually called Mazda5 from 2004 to 2018. Outside of that timeframe, it was actually called the Mazda Premacy, and still is in some markets. In North America, it was also known as the Mazda Capella Wagon, and the Mazda MPV.
The first-generation models were made from 1999 to late 2004 and were badged as the Mazda Premacy. The Mazda5 name was first adopted for the second-generation models (model code CR) in 2004 for the 2005 model year. This generation ran until 2010, when the third and final generation was released.
When it was first badged as Mazda5, it was quite a bit larger than the first-generation Premacy models. Outside of Japan, the Mazda5 badge was used, and it was marketed as a compact MPV for the European market, which translated to a mini-minivan for the American market. It actually shared a platform with Ford, the C1 global platform, even being sold in some Asian markets as the Ford I-Max.
When the model hit its third-generation --- technically the second generation if you only look at the Mazda5 name and ignore the Premacy --- it was facing some serious challenges in a global market where it wasn't enough for a minivan to be simply functional anymore. With many admitting they often bought minivans out of necessity, and now having the choice of more stylish crossovers, SUVs and wagons, the Mazda5 had to step up its game.
Many noted the Mazda5's fun driving dynamics, especially noticeable in a minivan. Mazda invested considerable time and energy into creating what it called a "linear" driving experience in all its cars, but wanted it to be felt even more in cars where people might not expect that benefit. It also benefited from a commanding driver's view, tight turning circle, excellent torque, and unique creases and body lines built into the frame to help set it apart from the boxier competition.