Chevrolet HHR Battery Size
---
Select Your Model Year...
Choose the appropriate model year for the Chevrolet HHR you are trying to find the battery size for from the list below.
Chevrolet HHR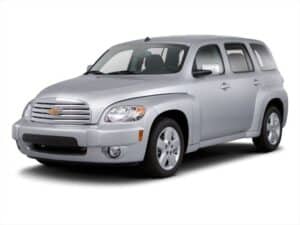 You can find the appropriate battery size for the Chevrolet HHR to the left, just scroll to your year and check the trim.
The years available stretch from 2006 through to 2011 and by clicking a link you can view the different battery types for each trim.
For just over 5 years the Chevrolet HHR was built in Mexico and sold exclusively to the North American market.
It was styled on the old Chevrolet Suburban that was popular in the late 1940s and early 1950s with a modern twist.
Over half a million examples of the car were sold thanks to its panel-van version and its performance trim the SS Turbocharged.
It's no surprise that one of the lead designers on the HHR project was also a designer on the PT-Cruiser project which shares similar styling cues.
Underneath the car was a front-wheel-drive chassis driven by the engine in the front with buyers able to choose a 5-speed manual or 4-speed automatic transmission.
The chassis was shared among many other General Motors brands such as under the Chevrolet Cobalt and Pontiac G5.
Engine choices were pretty limited though with the choice being between a 2, 2.2 or 2.4 litre engine with the 2 litre coming with a turbocharger fitted,
Taking over from the car when it was discontinued was the Trax crossover SUV and its sister model the Buick Envision.