Chevrolet Silverado Battery Size
---
Select Your Model Year...
Choose the appropriate model year for the Chevrolet Silverado you are trying to find the battery size for from the list below.
Chevrolet Silverado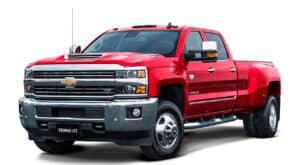 You can find the appropriate battery size for the Chevrolet Silverado to the left, just scroll to your year and check the trim.
The years available stretch from 1988 through to 2022 and by clicking a link you can view the different battery types for each trim.
Arguably one of the most iconic pickup trucks in America, the Chevy Silverado has been on the roads since 1998, enjoying popularity in the US, Mexico, South Korea and other countries.
Tt faces up against some pretty stiff competition from the likes of the Ford F-Series, Toyota Tundra and the Dodge Ram.
If you think the Silverado looks a bit like the GMC Sierra, you'd be right because they are essentially the same vehicle.
The Silverado comes powered by a 2.7L Turbocharged 4-cylinder engine at the low end and a 6.2L monster V8 at the top end.
Transmission is a standard 10-peed Hydra-Matic automatic. You might immediately want to characterize this pickup as a mega gas guzzler, but in fact you'd be wrong.
It is perhaps surprisingly efficient at 23mpg in the city and 33mpg on the highway.
The Silverado is defined by big, bold features, including an enormous and even imposing front-end grille design, as well as stunning 17" alloys as standard, but ranging up to 22" if it takes your fancy.
The starting price is another pleasant surprise, with the 2021 base model available from as low as about $29,000 for a regular cab, and $35,000 for a crew cab.
With a truck, most people want to know also about payload and towing.
The Silverado 3500HD in the 2021 model year has a huge 14,500-pound capacity, but the standard 1500 model can also manage a very respectable 9,700lbs in towing.
The 1500 can carry about 2,200 pounds in its rear bed, too.