Select Your Model Year...
Choose the appropriate model year for the Kia Sorento you are trying to find the battery size for from the list below.
Kia Sorento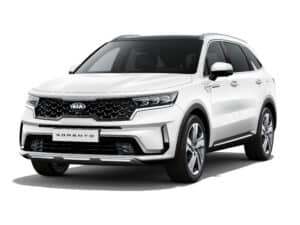 You can find the appropriate battery size for the Kia Sorento to the left, just scroll to your year and check the trim.
The years available stretch from 2003 through to 2022 and by clicking a link you can view the different battery types for each trim.
The original Kia Sorento appeared for the first time in 2002 as a compact SUV model capable of going off-road and towing trailers.
In 2009 the car was switched to a compact crossover SUV with the chassis now more like a road-going car than an off-road one.
This led to a lower running cost while retaining a large amount of space inside the car for passengers and cargo.
Sales almost quadrupled with this change as the market for crossover SUVs continues to grow quickly even with many automobile manufacturers releasing their own versions.
Kia also sells several other SUVs including the Soul subcompact crossover and the Sportage 4x4.
Safety ratings for this SUV were pretty good at the start with the car being awarded 4 out of 5 stars by IIHS.
With the second-generation, that score shot up to a full 5 out of 5 stars where it remained until today's fourth-generation recently brought in during 2020.
The new Kia Sorento is slightly longer than before but is equipped with incredible safety aids and hybrid technology to bring down running costs.
Over the years the sales have increased with each new generation, thanks to the company improving its image from a cheap alternative to a value for money contender in the automobile market.