Select Your Model Year...
Choose the appropriate model year for the Kia Stinger you are trying to find the battery size for from the list below.
Kia Stinger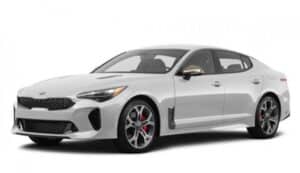 You can find the appropriate battery size for the Kia Stinger to the left, just scroll to your year and check the trim.
The years available stretch from 2018 through to 2022 and by clicking a link you can view the different battery types for each trim.
Classified as a mid-size car due to its shape and size, the Kia Stinger is built upon the Genesis G70 chassis.
Hyundai and Kia work closely together since they bought a large chunk of their company, many Kia models use Hyundai's superior technology underneath.
The Genisis brand that the G70 belongs to was created by Hyundai as an executive/luxury alternative for their model just like how Toyota created Lexus.
All examples of the Stinger have the engine in the front with most driving just the rear wheels but some models have four-wheel-drive as an option.
Engine options range from a sensible 2 litre turbocharged gasoline or 2.3 litre turbo-diesel through to the sporty 3.3 lite twin-turbocharged V6 in the GT trim.
Buyers of the GT trim are also treated to an optional all-wheel-drive drivetrain upgrade and can reach speeds of 167mph in tests done by Car and Driver.
In 2019 the Kia Stinger received a face-lift adding a camera system showing a top-down view of the car when reversing and heated rear seats.
Then in 2020 customers found that their delivered cars came with a new touch-screen infotainment system in the dashboard.
The Stinger isn't breaking any sales records in the mid-size cars segment when compared to behemoths like the Toyota Camry but does manage to sell more than 25,000 units per year.