Select Your Model Year...
Choose the appropriate model year for the Kia Sedona you are trying to find the battery size for from the list below.
Kia Sedona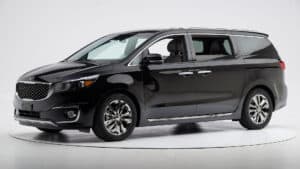 You can find the appropriate battery size for the Kia Sedona to the left, just scroll to your year and check the trim.
The years available stretch from 2002 through to 2022 and by clicking a link you can view the different battery types for each trim.
Brought in in 1998 and still on sale to this day, the Kia Sedona (or Carnival as it is known in some markets) is a minivan sold all over the world.
It was initially a value-for-money minivan with fewer features than its competitors but a much smaller price tag, something Kia was well known for.
It didn't hit the North American market until the 2002 model year and was only offered with a 3.5-liter V6 in that region.
American versions of the first-generation Sedona were equipped with the highest level of features as standard to help it compete.
Although Kia chucked everything into their North American version it was still pretty lackluster in comparison to established minivans such as the Honda Odyssey and the Dodge Caravan.
In 2005 the second-generation Sedona was released to the market and this time they took the platform from a Hyundai (Sonata) to build the car upon.
Then in 2014 the third-generation hit showrooms and buyers quickly noticed that the platform wasn't shared with Hyundai but was the one used under the Kia Sorento.
Engine choices were reduced to a minimum with this 2014 version to the point you could have 1 size of gasoline or 1 size of a diesel engine.
2020 saw the release of the fourth-generation Kia Sedona and is now based on a shared Kia-Hyundai platform that is slightly longer than its predecessors offering more interior room as a bonus.
Now the car is a stylish feature-full model that has retained its value for money label but with a more premium offering - it still gives the competition a real run for their money.