Select Your Model Year...
Choose the appropriate model year for the BMW X3 you are trying to find the battery size for from the list below.
BMW X3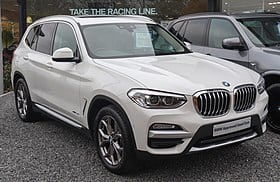 You can find the appropriate battery size for the BMW X3 to the left, just scroll to your year and check the trim.
The years available stretch from 2004 through to 2018 and by clicking a link you can view the different battery types for each trim.
Sitting towards the smaller end of the range of crossover SUVs from the German carmaker, the BMW X3 was the second model in the range released.
The company started with the larger X5 model that is essentially a 5-Series underneath with a bigger body and uprated suspension.
This compact crossover SUV is sat on the same chassis as the 3-Series and entered production in 2003.
Sales were incredible almost instantly when the X3 entered showrooms, helped massively by the popularity of the X5 released 4 years earlier.
Many customers were happy to be able to get their hands on a more affordable version of the company's flagship crossover SUV.
Engines available on the original model included a 2, 2.5 and 3 litre gasoline along with a 2 and 3 litre turbo-diesel - all mated to either a manual or automatic 6-speed transmission.
As the car evolved through its three generations of design the choice of engine was reduced, although the latest third-generation model did add a plug-in hybrid option and twin-turbocharged performance version capable of over 500bhp.
Sales were hit hard during the global recession in 2008 causing the line to lose two-thirds of its yearly sales though they recovered quickly and now push double those previous-highs.