Cadillac STS Battery Size
---
Select Your Model Year...
Choose the appropriate model year for the Cadillac STS you are trying to find the battery size for from the list below.
Cadillac STS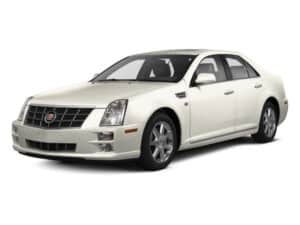 You can find the appropriate battery size for the Cadillac STS to the left, just scroll to your year and check the trim.
The years available stretch from 2005 through to 2011 and by clicking a link you can view the different battery types for each trim.
The Cadillac STS line only ran for 6 years in the USA but carried on for 2 more years selling in China as the SLS.
It was brought in to replace the Seville model that ran from 1975 for almost 30 years until 2004 - it was different from a lot of American cars as it was front-wheel-drive.
This STS returned back to the traditional rear-wheel-drive layout popular in North America, although some examples were optionally four-wheel-drive.
What the two models did share in common though was the Magnetic Ride Control system that proved popular with customers for its comfortable ride.
This car was built alongside the Cadillac CTS in the same plant, sharing some mechanical parts between the two models.
A range of engines helped the STS sell across the different demographics, from the sensible 2-liter to the premium NA 4.6-liter V8 and high-performance supercharged 4.4-liter V8.
The supercharged engine could only be found in the STS-V trim that brought aggressive styling and better handling from uprated parts in the chassis.
Sales picked up quickly just after the release of the car in 2005 but spiraling oil prices and the 2008 global recession looming overhead put a quick stop to the car's success.