Cadillac CTS Battery Size
---
Select Your Model Year...
Choose the appropriate model year for the Cadillac CTS you are trying to find the battery size for from the list below.
Cadillac CTS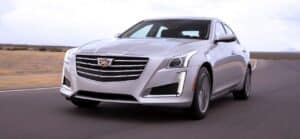 You can find the appropriate battery size for the Cadillac CTS to the left, just scroll to your year and check the trim.
The years available stretch from 2003 through to 2022 and by clicking a link you can view the different battery types for each trim.
A total of three generations of Cadillac CTS cars were made, a high-end executive car designed to compete with luxury European rivals, in particular those of Audi, BMW, and Mercedes-Benz. It enjoyed a fairly long production run from 2002 to 2019, after which it was replaced by the CT5, which continues to be Cadillac's main midsize luxury sedan offering.
The CTS was built on the GM Sigma platform, and its lineup also included a high-specification CTS-V model for each generation. In typical US brand fashion, the powertrain offering was highly eclectic, ranging in the first generation from a 2.6L V6 all the way up to a 6.0L V8. This range of engine displacement continued into the second and third generations, but with the overall number of options eventually dropping to just 5 by the end.
The third-generation models were well received by critics, scoring 8/10 from prominent platforms such as Car and Driver. With a starting price of $47,990 for its Base trim, growing to $72,790 for the top-level V-Sport Premium Luxury trim, there was a CTS to suit many different budgets.
The V-Sport variants were invariably the most powerful, with the latest one offering a 3.6L V6 engine delivering up to 420-hp thanks to its twin-turbocharged build. When you put that kind of power with this well-tuned chassis, the results were certainly pleasing to its many buyers. Additions like Brembo brakes and performance-enhanced suspension made the V-Sport trim so attractive, even with the higher price point.
What really helped to put the CTS on the map, however, was each generation's CTS-V model, the newest of which put out 640-hp with its supercharged V8 engine. The main failing of this model against its European rivals, however, was the way that Buick failed to get a really unified, elegant interior design concept to match the pleasing exterior. The interior had the feel of being designed by committee, with every taste getting a little bit of satisfaction.