Chevrolet Equinox Battery Size
---
Select Your Model Year...
Choose the appropriate model year for the Chevrolet Equinox you are trying to find the battery size for from the list below.
Chevrolet Equinox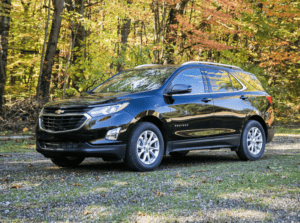 You can find the appropriate battery size for the Chevrolet Equinox to the left, just scroll to your year and check the trim.
The years available stretch from 2005 through to 2022 and by clicking a link you can view the different battery types for each trim.
In the eclectic world of compact crossover SUVs, the Equinox is the offering from Chevrolet.
Built on the same platform as the Cadillac SRX before being replaced by the CT5 model its acts as a non-luxury version of that SUV.
This 5-door mid-size crossover SUV started life back in 2004 as it was prepared for the 2005 model year. In the 2018 model year, it was updated to be a compact crossover. The 2018 variant is the third and latest generation.
If it's the newest one you're driving, then you have of three engine options, either 1.5L or 2.0L turbo gasoline 4-cylinder option, or the 1.6L turbo-diesel.
The top power rating is on the 2.0L turbo gasoline option at 250hp and 260lb-ft of torque. It also comes in four trim levels, namely L, LS, LT and Premier.
You have to opt for either LT or Premier to get those top-notch engine options, including the diesel.
If you bought an Equinox in the 2020 model year, you might have been a little premature, because Chevy has announced already that the 2022 model will be getting a face-lift.
It was actually unveiled officially in February 2020 at the Chicago Auto Show. There's a new grille, new headlights and fog lights, a different bumper and more.
There will even be a new trim level: RS, which brings a new front and rear fascia to the mix.
Since its emergence, the Equinox has proven popular with some 3.3 million units sold since 2004.
Amp Electric Vehicles have even taken the Equinox and converted it into an all-electric version, which they subsequently sold to Dayton Power & Light.
Can we expect this electric version to join the regular lineup in the near future?