Select Your Model Year...
Choose the appropriate model year for the Kia Rio you are trying to find the battery size for from the list below.
Kia Rio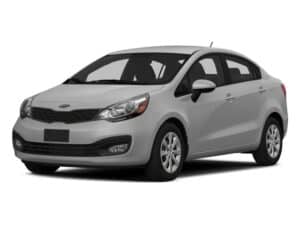 You can find the appropriate battery size for the Kia Rio to the left, just scroll to your year and check the trim.
The years available stretch from 2001 through to 2022 and by clicking a link you can view the different battery types for each trim.
Replacing the Pride and Avella lines in the late 1990s, the Kia Rio has remained in production ever since.
It's now in its fourth-generation and although not as successful in sales as it once was it still acts as an important model in the Kia lineup.
In different regions of the world, you can find the Rio sold under other names such as the Pride, Tonic and K2.
You can buy the car as a standard hatchback or opt for a longer sedan version with a boot sticking out of the back or even a station wagon version (1999 - 2005).
In 2005 the car was released in its second-generation using the Hyundai Accent as the donor for its platform.
Both South-Korean company's started working closely together at the turn-of-the-century as Hyundai started buying a larger share of the company.
Safety ratings of the second-edition car weren't great with it only achieving 2 out of 5 stars with IIHS though this was rectified in the third-generation when it was raised to 4 out of 5 stars.
The most recent version of the car is the fourth-generation that was released in 2017 and was offered with an optional safety pack.
Test results for the standard car scored just 3 out of 5 stars with Euro NCAP but if you purchased the safety pack as an extra it raised it to 5 out of 5 stars.