Select Your Model Year...
Choose the appropriate model year for the Kia Rondo you are trying to find the battery size for from the list below.
Kia Rondo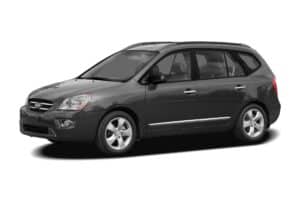 You can find the appropriate battery size for the Kia Rondo to the left, just scroll to your year and check the trim.
The years available stretch from 2007 through to 2017 and by clicking a link you can view the different battery types for each trim.
For 20 years the Kia Rondo (Carens in some markets) stood as the South-Korean company's flagship compact-MPV.
Launched in 1999 to take advantage of the growing crossover vehicle trend that was beginning the car had ample room with low running costs.
This was perfect for families who didn't want to buy expensive SUVs with heavy off-road equipment underneath that added to the running costs which would never get used.
A feature that helped the Rondo sell well was the full-length sunroof that brought a huge amount of natural light into the car.
Sales of the car exceeded expectations in North America, an important market for almost every automobile manufacturer due to its spending power.
Unfortunately, sales tapered off in 2009 and never returned leading to the third-generation Rondo not being sold in America, although it was marketed in Canada.
Consumer tastes changed during the lifespan of the Rondo/Carens and crossover SUVs have led the way in popularity such as the Soul and Sportage.
Alongside it being discontinued from North America the company dropped the V6 engine that was popular there as it wasn't so popular in the rest of the world.