Select Your Model Year...
Choose the appropriate model year for the Lexus GX you are trying to find the battery size for from the list below.
Lexus GX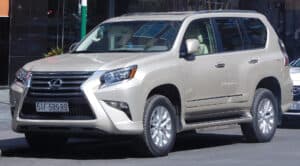 You can find the appropriate battery size for the Lexus GX to the left, just scroll to your year and check the trim.
The years available stretch from 2003 through to 2022 and by clicking a link you can view the different battery types for each trim.
Standing on the same chassis as its parent brand's Toyota Land Cruiser, the Lexus GX is the luxury offering of the full-size SUV.
It is off-road capable thanks to it sharing a platform its donor car yet inside the car boasts better safety and comfort features.
Not only are the safety/comfort features better but the engine that the car comes with is larger, being a smoother larger displacement V8 (or optional V6 in later models).
All models are full-time four-wheel drive and are fed by an automatic transmission, 5-speed in the first-generation and 6-speed in the second.
Sales took off after its release in 2003 to reach just over 35,000 units sold in 2004 but as the price of oil spiked over the following years, the sales tumbled.
The Lexus GX hit rock bottom during the global financial crisis in 2008 wiping away around 80% of the sales it was experiencing previously.
Sales did recover slowly afterward but the peaks seen before were never achieved again as buyers flock to crossover SUVs instead.
Lexus has a wider range of SUVs now with more emphasis placed on the crossover variety, including the NX and RX.