Select Your Model Year...
Choose the appropriate model year for the Lexus NX you are trying to find the battery size for from the list below.
Lexus NX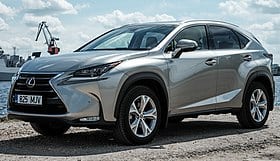 You can find the appropriate battery size for the Lexus NX to the left, just scroll to your year and check the trim.
The years available stretch from 2015 through to 2022 and by clicking a link you can view the different battery types for each trim.
Entering the compact crossover luxury SUV market in 2014 with the Lexus NX the company quickly saw sales success.
The exploding crossover SUV market is growing quickly with almost every automobile manufacturer entering the race with their version.
Compact crossover SUVs like the NX and the Toyota RAV4 for example have the underpinnings of compact cars like the Lexus CT or Volkswagen Golf.
Having the chassis from a normal car has its strong points such as being lighter and cheaper to run while costing less to maintain and repair.
Many of the mechanical parts are shared with the RAV4 model produced by its parent brand, helping keep development and production costs down.
Thanks to developments in technology these taller cars can stay stable and be safer in crashes, something traditional SUVs have struggled to do for years.
The NX sets itself aside from the rest of the compact crossover SUV market by employing luxury features such as a built-in infotainment system and driver aids such as a pre-collision system.
Customers tend to be choosing the hybrid trim of the car, outselling the other engine variations thanks to its amazing 55~mpg average it can achieve.