Toyota Land Cruiser Battery Size
---
Select Your Model Year...
Choose the appropriate model year for the Toyota Land Cruiser you are trying to find the battery size for from the list below.
Toyota Land Cruiser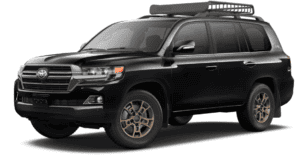 You can find the appropriate battery size for the Toyota Land Cruiser to the left, just scroll to your year and check the trim.
The years available stretch from 1965 through to 2022 and by clicking a link you can view the different battery types for each trim.
Some models that date back to the 1990s and 1980s claim to be long-lasting iconic models, but none can really compare to the Toyota Land cruiser, whose production history goes all the way back to 1951.
It's now a popular SUV the world over, having been tested in the most arduous and trying of conditions in the Australian outback.
Buyers with slightly deeper pockets can opt for the luxury version sold through Toyota's sub-brand as the Lexus GX.
It was originally envisioned as an off-road model, with production and development from 1951 to 1967 focused exclusively on that.
After 1967, Toyota also marketed a more comfortable model aimed at the regular driver who wanted the utility of such a vehicle, but didn't need all the rough-and-tumble.
The latest generation of the latter comfort-oriented model is the J200, which started production in 2007.
It features large 4.0L to 5.7L gasoline engines, as well as a 4.5L turbocharged V8 diesel option.
The years 1999 and 2000 saw a spike in popularity for the Land Cruiser in the United States, but since then it hasn't enjoyed massive sales in any year, averaging just 3,000 or so between 2015 and 2019.
The Land Cruiser got a significant facelift in 2015, which featured a new 8-speed ECT-I transmission, larger front disc brakes, daylight running headlight, a new infotainment system with larger screens and more.
Buyers of cars this size have dissipated and Toyota has set their resources onto crossover SUVs like the C-HR that packs more punch in a smaller package.
The story of Land Cruiser in North America is, unfortunately, set to end in 2021.
After all these years, and sadly disappointing sales, the line will come to a finish. It continues around the world, however, and there will still undoubtedly be a committed fan base in the US who continue to search for pre-owned models.