Select Your Model Year...
Choose the appropriate model year for the Toyota RAV4 you are trying to find the battery size for from the list below.
Toyota RAV4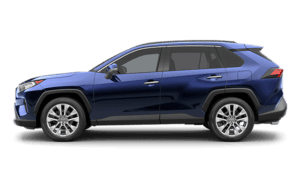 You can find the appropriate battery size for the Toyota RAV4 to the left, just scroll to your year and check the trim.
The years available stretch from 1996 through to 2022 and by clicking a link you can view the different battery types for each trim.
The Toyota RAV4 is said to have kick-started the compact crossover SUV segment by accidentally doing everything right.
It had the benefits of a standard SUV including plenty of interior space for passengers and cargo but with a lightweight frame to keep costs low.
Within years many other automobile manufacturers brought their own versions to the market to compete, including the Honda HR-V and the Subaru Forester.
The first examples of the RAV4 were very basic and utilitarian, lacking many safety and comfort features that the company thought wouldn't be needed.
As the generations passed by and the company could add more and more to the car through advancements in technology the sales climbed quickly.
In the 1990s the RAV4 would reach sales of around 60,000 but by 2010 that yearly number had tripled - then doubled again by 2015 and now easily pushes over 400,000 sales per year.
A quarter of the sales of the compact crossover SUV Toyota RAV4 are hybrids, utilizing technology to capture lost energy during braking and recycle it when accelerating again.
To keep these additional technological features powered the main battery has grown in size over the years.
You may also find that if you have a premium sound system fitted in your RAV4 then you may need a slightly different battery than if it wasn't fitted.
To find out the prices of the battery (once you found the exact size you need for your model) you can check out the price on our other site CarPartsDelivered.com.
2018 saw the release of the fifth generation and saw the SUV actually shrink in length slightly.
Inside the new model is some amazing technology including a WiFi hotspot, mobile device connectivity for Apple and Android devices and Toyota Safety Sense driver aids.