Select Your Model Year...
Choose the appropriate model year for the Mazda MX-5 you are trying to find the battery size for from the list below.
Mazda MX-5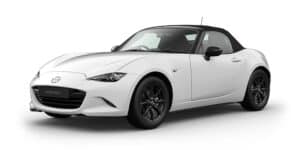 You can find the appropriate battery size for the Mazda MX-5 to the left, just scroll to your year and check the trim.
The years available stretch from 1992 through to 2022 and by clicking a link you can view the different battery types for each trim.
Since 1989 the Mazda MX-5 has been produced and assembled in Japan and exported to almost every other continent.
It has been sold under several other names during that time as well including the Mazda Roadster, Eunos Roadster and Mazda MX-5 Miata.
All MX-5's have followed the same design and layout, the engine is between the front wheels with power going to the rear axle.
This design was introduced to ensure that a 50/50 split of the weight led to the car handling well when pushed, especially when cornering.
In 2006 the car passed the 1 million models sold milestone and won the title for best selling 2-seat sports car ever shortly before that.
What has set apart the MX-5 from the rest of the market has been its lightweight construction and low price - allowing many average car buyers to own a sports car.
Audi also have their own similar affordable 2-seater sports car in this segment of the market also, called the TT.
Sports-car-like features such as limited-slip-differential and traction-control were offered as extras so that buyers could pick and choose and reduce the price of the car if wanted.
Current Mazda MX-5 models introduced in 2014 feature an electric-retractable roof for a more coupe-style in comparison to the old soft-top versions.