Select Your Model Year...
Choose the appropriate model year for the Acura MDX you are trying to find the battery size for from the list below.
Acura MDX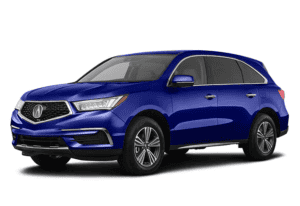 You can find the appropriate battery size for the Acura MDX to the left, just scroll to your year and check the trim.
The years available stretch from 2001 through to 2022 and by clicking a link you can view the different battery types for each trim.
Sold in Japan under the Honda brand, or the Acura MDX outside of the Japanese company's home country is a mid-size 3-row luxury crossover SUV.
What makes it a crossover in comparison to a standard SUV is the lack of off-road equipment, meaning it's primarily intended for road use only.
This leads to the car being much lighter than its standard SUV competitors including the Jeep Grand Cherokee and the GMC Terrain.
The luxury part of its classification is down to the included extras in the car that you would typically pay an additional price for with other brands who would sell them as options.
Customers received their first MDX's in the year 2001 and found that underneath was the same platform used by the Honda Accord, Acura TL, Acura TLX and Honda Odyssey.
Over the years the car was reduced in weight greatly as the company made the four-wheel-drive version optional and discarded away with a lot of the unnecessary weight.
Safety ratings improved through the years too as technology improved, the third-generation 2013 model was awarded an almost perfect score by NHTSA - only falling back slightly in the rollover risk discipline.
Sales have remained steady for the Acura MDX line and sat around the 50,000 units sold per year rate apart from a dip in 2009 amid the backdrop of a financial crisis.