Select Your Model Year...
Choose the appropriate model year for the Toyota C-HR you are trying to find the battery size for from the list below.
Toyota C-HR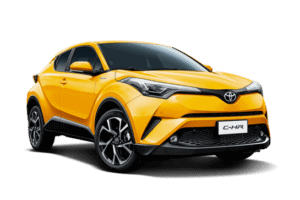 You can find the appropriate battery size for the Toyota C-HR to the left, just scroll to your year and check the trim.
The years available stretch from 2018 through to 2022 and by clicking a link you can view the different battery types for each trim.
As many brands release their own edge subcompact SUV crossover models, which essentially look like enlarged hatchbacks, Toyota joined the party for the 2018 model year with the C-HR.
It competes directly with the Honda HR-V subcompact crossover SUV which strikes a similar similarity in both appearance and in name.
It's not assembled in the US, unfortunately, but has still proven fairly popular with sales nearing 50,000 units annually in the US market.
The C-HR is characterized by its sporty looks, angular front end and sleep coupe-like rear.
It's a front-engine FWD design, and has numerous engine options depending on what market you're in.
The North American market received a unique 2.0L gasoline naturally aspirated engine, the 3ZR-FAE. That was coupled with a CVT transmission.
Had the marque not been discontinued, this model would have arrived with a Scion badge in the US.
Despite its young age, the C-HR has already received its first full facelift, which was unveiled in 2019.
The European market got a hybrid version, but alas not the US. Amusingly, Toyota refers to this model in the US as "your eccentric match". It's certainly a vehicle with character and spirit.
The C-HR is also very affordable and economical, starting at just $21,445 in the 2021 model year, and achieving up to 31mpg in gas consumption.
It comes in 4 different trim levels, and there's even a very cool Nightshade version with blacked-out features, a black roof and black wheels.
Another claim to fame for the C-HR is that of its credentials as a small-but-safe model. In 2020, it was the IIHS "Top Safety Pick" when it comes equipped with the LED projector headlights.