Toyota Corolla Battery Size
---
Select Your Model Year...
Choose the appropriate model year for the Toyota Corolla you are trying to find the battery size for from the list below.
Toyota Corolla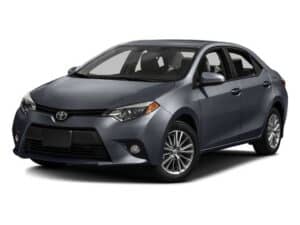 You can find the appropriate battery size for the Toyota Corolla to the left, just scroll to your year and check the trim.
The years available stretch from 1969 through to 2022 and by clicking a link you can view the different battery types for each trim.
It's really hard to go wrong with a Toyota, and the Corolla is among the best of the best in the company's fairly eclectic range.
The Corolla has a long development history going all the way back to the mid-1960s, but back then it was made exclusively for Japan, and even sold in its very own dedicated dealership.
It became the world's favorite car by 1974, proven by its world-beating sales figures, and it was the best-selling nameplate in the world by 1997.
It has spent years competing with the likes of the Honda Civic which is also extremely customizable during the time of purchase.
During the mid-1990s the Corolla was used to create the first crossover SUV, the RAV4 - a model that has gone on to become more popular than this one.
Toyota took the chassis that the car sits on and stuck an SUV-like body on top of it, launching a completely new segment of the motor industry in the process.
The latest incarnation is the twelfth generation of Corolla to grace the road (launched in 2018), and comes in hatchback, station wagon and sedan form.
Since 2000 when the Corolla arrived on American shores, the model has enjoyed consistently strong sales figures in the 200,000-400,000 region, only seriously flagging from year to year between 2019 and 2020, undoubtedly because of the downturn brought on by the Coronavirus pandemic.
The 12th generation includes petrol engines from 1.2L to 2.0L, and as usual with Toyota, you get a hybrid option. All the engines are 4-cylinder.
It really has a feel of the "everyman" car thanks to its differing designs: a sporty hatchback for the single professional; a practical and spacious wagon for the family (though not in the US, unfortunately); and a sleek sedan for that more executive impact.
In true Toyota style, however, the Corolla remains one of the most affordable cars on the market, with a starting price of just $19,925 in the 2021 model year for the sedan model.
That price only goes up as far as $28,210 for the top-notch XSE Apex Edition.