Select Your Model Year...
Choose the appropriate model year for the Audi A4 you are trying to find the battery size for from the list below.
Audi A4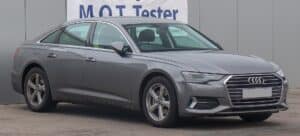 You can find the appropriate battery size for the Audi A4 to the left, just scroll to your year and check the trim.
The years available stretch from 1996 through to 2022 and by clicking a link you can view the different battery types for each trim.
Brought in during the mid-1990s, the Audi A4 has sat at the top of the compact executive car market for many of those years.
Available as either a saloon or estate car it has acted as a great all-around car that can transport the family around at the weekend as well as drive the parents to work and children to school.
It sites smaller than the standard-sized executive car the A6 and slightly larger than the compact car classed A3 from the same German automobile manufacturer.
Offering plenty of engine choices helps car models sell well all around the world and to various demographics, the extensive range included on the A4 has helped it achieve impressive sales throughout its 25 years in service.
In 2000 the second-generation A4 was released to the public and the inclusion of a soft-top convertible helped push sales just that little bit further.
The high-performance RS4 trim has offered supercar-like performance from a compact car since its introduction in the first generation.
With a large price tag and an obscene amount of power under the hood, the car isn't for the faint-hearted.
The RS range isn't an obvious transformation of the car (you can find the RS6, RS5 and RS3 the same), it's not as flashy as some special editions but when you look at the figures you are astounded.
Current RS4 models on sale from Audi push almost 450bhp to all four wheels and feature the latest ins safety and comfort technologies inside.
In 2008 the fourth-generation model was launched to the market and brought with it a longer wheelbase due to a complete overhaul of how the engine is laid out in the front of the car.
It handles better than its predecessor's thanks to the movement of the center of gravity towards the rear of the car.
The most recent version of the Audi A4 was brought in during 2016 and saw the car move to the MLBevo platform.
This is the same platform that the A5 and the A7 sit on, the slightly sportier lines compared to the standard sedans on offer from the German automaker.