Select Your Model Year...
Choose the appropriate model year for the Audi A3 you are trying to find the battery size for from the list below.
Audi A3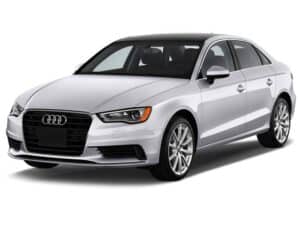 You can find the appropriate battery size for the Audi A3 to the left, just scroll to your year and check the trim.
The years available stretch from 2003 through to 2022 and by clicking a link you can view the different battery types for each trim.
You can class the Audi A3 as a small family car or a subcompact executive car, depending on the level of trim.
It has been offered as a sedan or hatchback throughout its life starting in 1996 when it first went into production.
Underneath the original two generations of the car's design, you will find the same platform used by the TT and Volkswagen Golf.
With the introduction of the third-generation in 2013, the car switched to the global MQB platform used by many other models across the Volkswagen umbrella.
Currently, the latest fourth-generation A3 that was released in 2020 is only slightly larger than its previous counterparts and offers a range of different engine sizes to customers.
You can opt for the small 1 litre turbocharged gasoline under the hood (popular with Chinese car buyers who are taxed based on engine displacement) or you can go wild with the 2.5 litre turbocharged RS3 trim.
The RS3 version of the car can push well over 150 miles per hour and features a subtle yet stylish design that doesn't give easily give away the fact that its a wolf in sheep clothing.
Over the years the car has won many awards and represents the Audi brands history of providing quality and reliability at a value for money price tag.