Select Your Model Year...
Choose the appropriate model year for the Audi Q7 you are trying to find the battery size for from the list below.
Audi Q7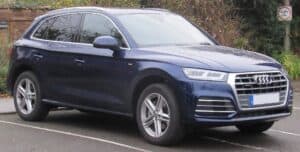 You can find the appropriate battery size for the Audi Q7 to the left, just scroll to your year and check the trim.
The years available stretch from 2007 through to 2022 and by clicking a link you can view the different battery types for each trim.
After seeing the popularity of the BMW X5 line the Audi company decided to introduce their own full-size crossover SUV to the market.
They built an entirely new platform for this car, unlike BMW who used the chassis' from their popular sedan range as bases.
Underneath the original 2005 Q7 was the same platform used by the Volkswagen Toureg and Porsche Cayenne.
Sales didn't get anywhere close to those of the X5 but they did carve themselves a niche in the market, even adding a high-performance V12 TDI trim.
The turbodiesel V12 trim won the title of the most torque in a passenger car ever, not many of these models were ever made and rarely come up for sale.
10 years after the initial release of the car the second-generation was introduced and along with it came many fuel-efficient engine choices to help it appeal to today's tough car market.
A series of hybrid engine packages are available to help those who want to keep costs day-to-day down while enjoying owning a large crossover SUV like this.
Mated to these new engines is an automatic transmission with either 6 or 8 gears depending on the level of trim you have opted for.