Toyota Prius Battery Size
---
Select Your Model Year...
Choose the appropriate model year for the Toyota Prius you are trying to find the battery size for from the list below.
Toyota Prius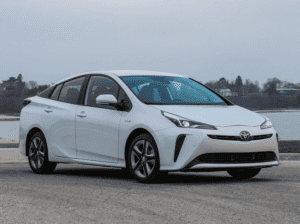 You can find the appropriate battery size for the Toyota Prius to the left, just scroll to your year and check the trim.
The years available stretch from 2004 through to 2018 and by clicking a link you can view the different battery types for each trim.
The Toyota Prius is a hybrid car manufactured in Japan by Toyota, the company known for the RAV4 and Camry.
In the United States, Priuses were first sold at selected dealerships in California in mid-1997.
As of January 2013, worldwide sales of the Prius totaled 4 million units, including 1.3 million in the USA, making it one of the world's best-selling automobiles.
Production of the Prius was suspended in Japan from April 2012 until August 2015 as Toyota converted its production facilities to make vehicles for upcoming challenges in the North American market and for export sales, including export sales to Russia and China.
Then the production of the Prius resumed in Japan on 3 August 2015 with a new 11 million yen regional local manufacturing plant located in Handa.
The car combines the interior volume of a small family car with the fuel efficiency of a large family car, operating on gasoline or diesel power trains with two engines standard: A hydrogen fuel cell and a hybrid electric motor.
It was launched in Japan on September 14, 1997, with sales beginning in Japan later that month and continuing worldwide until 2006.
This vehicle is one of the most successful automobiles ever sold thanks to its adoption of futuristic technology sought after by many environmentally conscious car buyers.
While the original Prius was not well received by critics and consumers alike, the redesigned 2014 model has drawn praise both from its drivers for its fuel efficiency, and from automotive journalists for being one of the most comfortable hybrids in production.